It is almost beyond my comprehension that another of my beloved fur family has gone on to the rainbow bridge. On September 27, 2001, a day after his eighth birthday, my Farley joined his fur brother Angel Gem in Kitty Heaven.
Farley's story begins on September 26, 1993 when he was born. When he was about six weeks old, he and his remaining littermate, brother Andy, were dropped off at a veterinary clinic where the kind staff would keep them in hopes they would get adopted. Very soon they had their new human Mom, Rhonda Taylor who would adopt both of them.
When Farley and Andy were about 3 years old, Rhonda came upon some tough times, and lost her apartment. She had shuffled Andy and Farley around amongst friends for as long as she could. She called the shelter where I was working at the time. When I told her that I was sorry but we could not take in anymore cats at this time, she broke down in tears. I felt sorry for her, and I took her phone number. I called her a couple of weeks later to find that she had no choice but to take them to the local Humane Society where we both knew they would most likely be sentenced to death.
I agreed to take them into my home until Rhonda could straighten out her life. She asked how much I would charge her. I remember laughing at that, of course I wouldn't charge her, I just wanted to her to get settled and be able to take them home where they belonged.
Well, after that, I heard from Rhonda every now and then. Sometimes she would call me on their birthday. It took a while for Farley to settle in to life in my home. He was often intimidated by my other cats. Sometimes his new fur brothers Whiskey and Shelby would corner him at the bottom of the stairs or in the corner of my utility room where he would growl until I came over and rescued him, and scolded them.
Eventually he would settle down to find his own place in the family. He became very attached to me and stuck to me like glue. He slept tightly at my side every night and was always pushing against my hands whenever I was at the computer or trying to pay bills in my breakfast nook. It was a bit annoying at times, yet thinking back, I'll miss that now.
He had the funniest way of running, and he would always run to me when I called him. I couldn't help but laugh, he ran with his back legs so stiff. Sometimes I would set him down far away, tell him to stay there, which he would, then I'd call him just so I could see that funny running style he had. I wish I had it on video. I always meant to film it.
It's been five years since that day that Farley and Andy came to live with me. Andy still remains with us, and I'm sure he misses his brother a lot. Below is a photo of the two of them together. That's Farley on the right.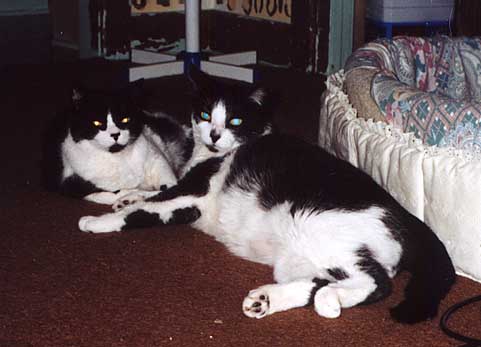 Return Home and sign Farley's Condolence Book